Off-Site
Off-Site
We travel outside of our studio and school to visit other artists in their studios or to see exhibitions as often as we can.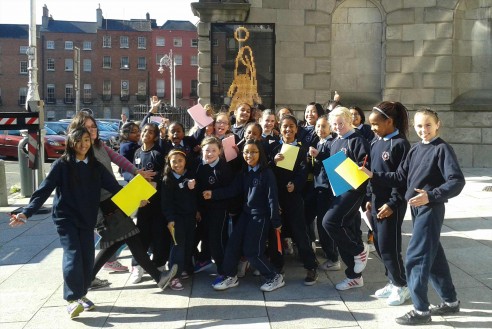 The Hugh Lane Gallery
Sophie & Ciara here! This is a picture of us when we visited The Hugh Lane Gallery for the first time.  We went to see the Francis Bacon studio because we were starting to turn our classroom into an art studio and we were wondering what a studio could look like.  It was very messy to look at, but he said he got more ideas from a messy busy space - we read this from his quotes on the gallery walls.  We could see the staircase from his original studio, but it was sealed off so we couldn't actually walk down them. We also saw some of his paintings! Some looked finished, but others were torn and unfinished.  Later we read that he was unhappy with some of his work and he tore the canvases on purpose.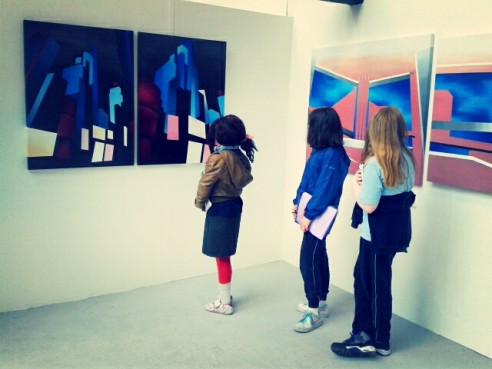 NCAD
Naomi & Ibeh here! We were invited to the graduate show at NCAD in 2015.  We saw lots of art, including painting by artist Sarah Ward who visited us in our studio. The fashion students talked to us about their work.  They explained their ideas and showed us lots of different fabrics and patterns and jewelry. We had never seen anything like it. There was a tree-house in the fine art room, it was futuristic.  We had to climb into it and there was a screen and video inside it.  It took ages to get us all out of that, we liked it as a hide away. We also met Josh Joyce and his art installation, which was a large wooden bridge. We walked across it and it dropped with our weight in the middle, everyone got a fright, it was really funny. Water splashed from under the bridge. It was really fun and different.
Andrew Carson's Studio at Draíocht
We went to meet Andrew Carson in his artist studio in Draíocht in Blanchardstown in December. Andrew was really good at explaining his work to us. He showed us work that he had made that was part of an exhibition in Draíocht. He talked about the galaxy, communication and other stuff.  Then he showed us how he made some of the work and we had a workshop and made our very own colorful paper pieces. They were still on the walls in Draíocht when we left - you can go and see them!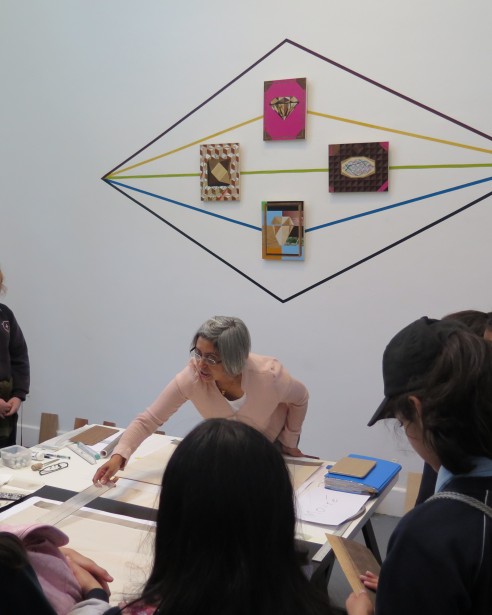 Meeting Bharti Parmar
Hi I'm Neepa and I'm Ella, and we went IMMA  on Friday the 2nd of June. When we arrived we saw all the artists studios and met an artist in residence - Bharti Parmar. She was visiting from the UK. She showed us her art work, her notebooks, and she even did a drawing while we were there watching her. She said she is interested in how her body informs her work, and how even her heartbeat was changing the way she was drawing at different times of the day. We learned the phrase 'Moire pattern', which is an 'interference' pattern, just like Bharti's drawing that was repeated lines but each line was different because her heart beat affected each line she drew. Her work was very neat, and colourful, and the studio was very clean, but not as big as our studio!
We had lunch in the IMMA courtyard while looking at art work outside.Then we met Evy who works at IMMA as a tour guide, and she brought us to an exhibition by Jac Leirner who used everyday objects to make art. We thought this was interesting because we use everyday materials in our studio too. Then we went to explore IMMA's main exhibition upstairs. We saw different types of art, some you could look at but not touch, and others were interactive, we could play with them. We also saw animation, photography and installations (this is when art takes up a whole room). It was really interesting and fun. We would like to go back soon!