Shared Studio
Shared Studio
Welcome to our studio which we share with our artist Anne. In our shared studio we spend time making, thinking, talking, learning, creating, and meeting new people. We've included video footage of our studio space and information on what goes on inside.
Studio life
Here's a video we made of studio life in our Room 13 Inquiry studio in Tyrrelstown ETNS.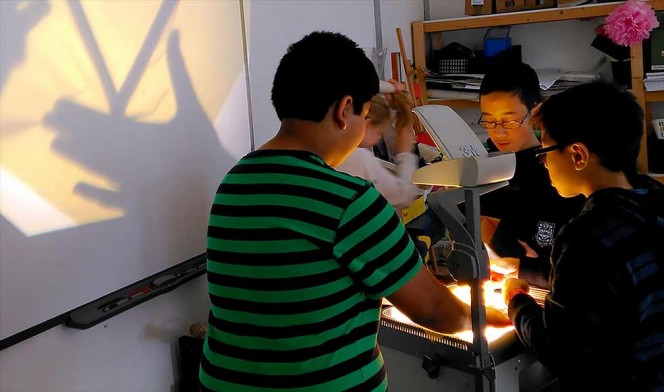 Experimenting in the Studio
I'm Khoi. I'm the  person in the middle of this photo. Leinster, Salman and I checked out shapes, light, colour and other stuff by experimenting with materials and the projector in the studio that day. Other people were working around us. We learned a lot and the studio gives us a lot of space to work. I think art is great, it keeps you company when you are bored. The more you make the better your art is, so if you aren't good at it now, keep doing it and you will get better. And if you don't, it's okay too, not everything has to be perfect.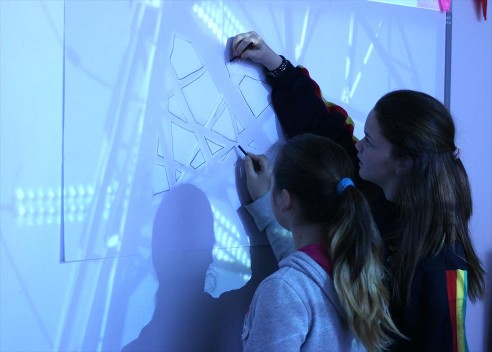 Making & Creating
I come into the studio whenever I have a chance. I usually come in with ideas already in my head of what I want to make. We use the walls to share examples of ideas and art work. I work out these ideas with materials in the studio to find different answers and results. I do work with other people, but mostly by myself, because we all have so many different ideas we want to explore. Sometimes I store my work here, like if it's not finished, or if glue needs to set, or paint needs to dry.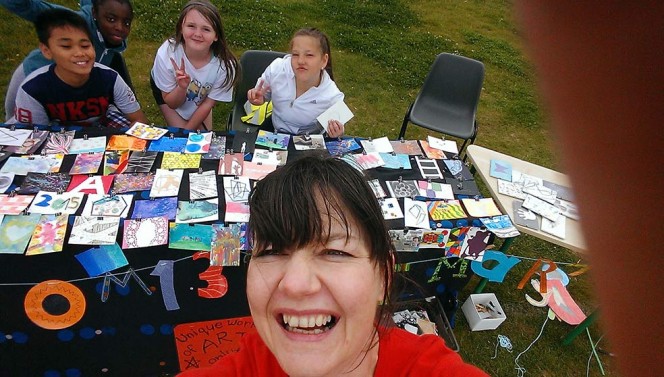 Fundraising & Responsibilities
Hi I'm Rachel, this is me with a few of my class mates and our artist Anne. We were fundraising with postcards that we made in the studio.  It was great fun making the postcards and selling them. I was sad to see our amazing art gone, but I guess it was good for the studio, because we got to buy new materials with the money. Another time we made cards with a print design on the front and sold them at Winter Assembly.  I loved it and I can't wait to do it again. We are all responsible for making sure the studio runs well and that our work is minded until we bring it home or sell it.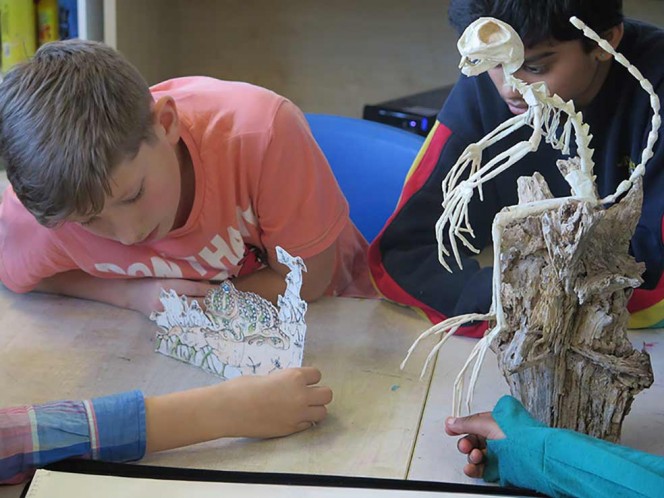 Meeting other Artists
I'm Jakub, one day an artist called Melissa came over to visit our brilliant studio. This is me with some of her work. Melissa brought amazing pieces of art and I really liked how out of a few simple things like a piece of wood, masking tape and wire, she created imaginary characters or even your favourite book character and also she was able to make amazing prints like a bird in the middle of a gargantuan Amazon Rainforest. From my experience I think Melissa can create a lot more beautiful art. She was starting her print residency at the Graphic Print Gallery and we might see her again soon. We work with an artist Anne, but it's also awesome when other artists come to visit our studio and see our work.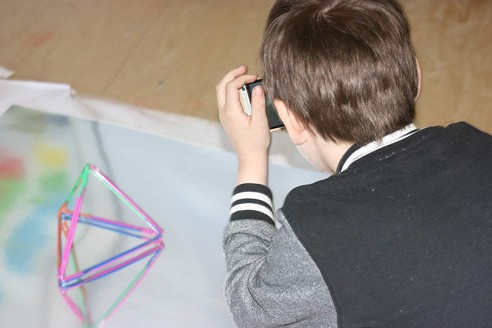 Documenting our Work
Morgan, Ibrahim, Chisom and Eniola on documenting their work in Room 13.
Morgan: 'I know a lot about cameras. When I saw the camera that we got for Room 13 Inquiry, I was like whoa!  It's important to have the cameras to document stuff because a lot of stuff goes in the bin, it disappears. We took the camera on our trip to see the Amanda Coogan show, that was quite spooky. I took pictures on the floor, I think Amanda Coogan could see us in her mirrors. The camera is connected to WiFi!'
Ibrahim: 'I've used the camera loads for Room 13 Inquiry but Morgan is always taking it off me, we both like photography a lot! I took pictures at art week and when Anne did a slide show about Sol LeWitt. Also I like taking the pictures for Room 13 because we get out of class, but also because documentation is very important!!! I think taking pictures is more important than Irish.'
Chisom: 'It's important to have a camera in our Room 13 Inquiry studio because photography is another kind of art. The photos that we take of the art are art! We're arting the art (laughs).'
Eniola: 'You also capture the moment'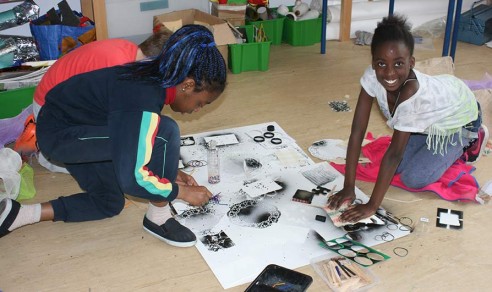 Material Influences
Hi I'm Sky! Usually in our Room 13 studio you can find plenty of materials, even things you wouldn't have thought of finding. One time I found loads of plastic shapes, so I told my friends that we should do something creative with them. So we thought of making a castle.  We spent time stacking them in different ways and making different structures; then we glued them together. After that we got more excited about making more things out of random recycled materials in the studio. If I found something, I would think of a new way of using it or changing it; sometimes the result would look silly, but other times it would be perfect. I think I'm inspired by the materials I find first!
Studio Dialogue
Here we are discussing our visit to Francis Bacon's studio at The Hugh Lane Gallery, we can't agree whether Bacon's studio was too 'messy' and difficult to work in, or exactly 'the way he wanted it' as 'every artist is different, every person is different'.